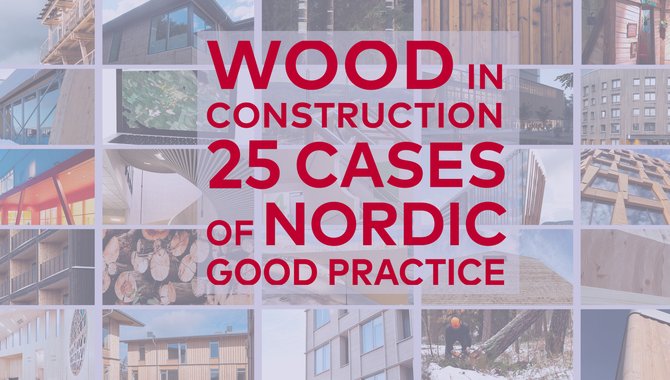 Wood In Construction
New report cements wood as the future of construction
Download the report here.
In a new report, 25 examples of using wood in construction showcase that reducing the carbon footprint of our buildings is not only possible, but that it results in remarkable, healthy living environments. The cases demonstrate how the Nordic countries are taking important steps to reduce carbon emissions from construction and turn an industry of finite resources into one of renewables.

The construction industry is responsible for approximately a third of all carbon emissions globally and by 2030, total construction output is expected to grow by 85%. As this is a sector that uses vast amounts of finite resources, a growth in output will result in putting even more resource strain on the environment while increasing emissions. By pairing the construction sector with sustainable forestry management, there is not only a great potential for wood to act as a carbon sink and offset carbon emissions, there is also a whole slew of additional economic, social, and environmental co-benefits.
Aiming to support and accelerate the use of wood in construction in the Nordics, the report "Wood in construction – 25 cases of good practice" is published by the Nordic Wood in Construction Secretariat, an initiative commissioned by the Swedish Government and the Nordic Council of Ministers, and hosted by EIT Climate-KIC.
25 clever climate constructions
The report seeks to increase knowledge and understanding of the new and innovative ways of working with wood in construction. Anders Vestergaard Jensen, Project Manager at Climate-KIC Nordic elaborates, "Although the benefits to using wood in construction are plentiful, we still have yet to realise the full potential of using wood throughout the value chain. While it's good news that there are more social, economic, and environmental benefits to realise, it also means that we still have work ahead of us to fully grasp the potential of using renewable materials in construction."
The 25 projects featured in the report showcase that there are numerous benefits to working with wood. They have all been scored against assessment criteria such as innovation, environmental benefits, social and local benefits, and more. The projects featured span the value chain from forestry and production, to public and private buildings, and second-life wood, with the latter showing examples of companies making use of reused and recycled wood.
One of the projects included in the report is the Lade School in Trondheim, Norway, a project proving the power of public procurement to drive innovation in local building practices and supply chains. Morten Marøy, Trondheim Municipality, "To us, Lade School is so much more than just a school and shows that public procurement can foster big changes in supply chains, creating positive effects in the local community and for the environment. We are proud to see Lade School in the Wood in Construction report and we're happy to see our building amongst the most innovative constructions in the Nordics". Using wood at Lade School has reduced the emissions from the building materials by 39% and created a healthy indoor climate for the school's students.
The endless benefits of building with wood
Undeservingly, wood suffers from a number of concerns relating to fire hazards, moisture issues, and even apprehensions regarding acoustics. However, during a fire, wood burns in a very predictable way, which is crucial for firefighters. This is the opposite to steel, which can explode without warning during a fire. When it comes to health, the benefits of building with wood are also clear since wood – contrary to concerns – has moisture absorbing properties, which creates a healthy indoor climate.
Yet, health and safety are not the only benefits to including wood in construction. Building with timber provides increased structural integrity with less weight and since materials are often prefabricated for buildings, this ultimately saves both time and money in transport and construction. These benefits of using wood in construction are all outlined in the report, which aims to effectively lay any concerns to rest and demonstrate that the future of construction is wood.
Nordic forests tackling climate change
The need for a change in the construction industry is apparent as the need for comprehensive action in the light of climate change becomes ever more present. "With Nordic forestry innovation's huge potential to create low-carbon and healthy buildings, we hope to see the industry realise the value and opportunities available when opting to use wood instead of concrete and steel," says Torfi Jóhannesson, Senior Advisor in bioeconomy, Nordic Council of Ministers.
The Nordic countries have the resources and the will to make the transition towards a sustainable construction industry – and the cases in the report show that they have already taken the first steps.
Read and download the publication here: https://woodinconstruction.net/news/item/73-25-cases-report-launch.html
For any questions in relation to this publication please contact Anders Vestergaard Jensen – anders.vestergaard-jensen@climate-kic.org